Today the Hitchcock Halloween blogathon, hosted by Lara Gabrielle Fowler on Backlots, has officially started and we are helping to celebrate the wide and varied film and television career of Alfred Hitchcock with our review of one of his lesser-known gems, "An Unlocked Window" ( 1965 ). Lesser known to those who are not familiar with The Alfred Hitchcock Hour that is, for to fans of the series "An Unlocked Window" is regarded as one of the most memorable and downright spine-tingling episodes ever made.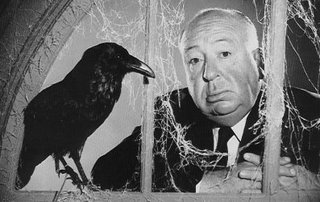 The show opens up with the Master of Suspense doing one his customary droll introductions to the story about to be aired. This time we see him standing behind a microphone stating that he wanted to broadcast his portion of the program by radio since he had lost some weight and did not want to mar his "image".
And then the thrills begin: we spy nurse Freda walking home at night - all alone - after caring for an elderly bedridden woman. A rash of murders has been occurring in the area but this doesn't seem to bother Freda...until she hears footsteps following closely behind. The camera quickly cuts to her feet walking, then to a man's feet walking behind her, back to hers, back to his, back to hers, back to his.... until suddenly we hear him speak "You are such a beautiful nurse Freda" followed by an unforgettable cackle-cackle as he snickers and strangles her simultaneously.
Freda was not the first nurse to be victimized, for our serial killer has a particular fondness for strangling nurses - young pretty nurses as a matter of fact, which leads us to Stella ( Dana Wynter ), night nurse to the dreamy Mr.Glendon Baker ( John Kerr ), who's temporarily bedridden and under oxygen due to an illness.
Baker, a young professor, lives in a dreary old house on the outskirts of town. He bought the property hoping to find it haunted but was sadly disappointed, "The real estate agent assured me there had never been a murder, suicide or any kind of violence within these walls...It's too bad a hideous old house like this has no hideous history to go along with it". He currently has his heart set on marrying Stella, an idea that keeps him cheerful despite his confinement to bed.
The news reports of the recent nurse killings have jangled Stella's nerves and she is pleased when another nurse, Miss Ames ( T.C Jones ), arrives to assist her in her work. Aside from the two nurses and Mr. Baker, only Maud the housekeeper ( Louise Lantham ) and her handyman husband Sam occupy the house. Miss Ames often reprimands Stella for her obvious forgetfulness in little matters, fearing that this will hinder her one day while on duty. Recently, Stella has forgotten to obtain extra oxygen tanks for Mr. Baker and so that night Sam is sent to the nearest hospital to bring some back. With a fierce storm raging outside and the fear that the killer will strike them next, the inhabitants of the house batten down the hatches and lock the place up tight - all except for that UNLOCKED WINDOW.
Oh, nooo!
********************************************************
"An Unlocked Window" was based on a short story written by Welsh novelist Ethel Lina White in 1939. Alfred Hitchcock had previously used one of White's novels, "The Wheel Spins", as a basis for The Lady Vanishes ( 1938 ). Many of Ethel Lina White's books focused on the vulnerability of women. This theme was emphasized brilliantly in Robert Siodmak's adaptation of White's novel, "Some Must Watch", re-titled The Spiral Staircase ( 1945 ), where our heroine is not only a young, timid woman needing protection but a mute as well.
The concept of the defenseless female reverberates throughout "An Unlocked Window" . In one scene we see Stella, Miss Adams and Maud cowering in corners for fear of their lives, suspecting that the killer has snuck inside the house. When a frightened Maud anxiously turns on all of the lights in the house Stella quickly hushes her and shuts them off, remarking that "the darkness protects us, now if there is someone outside he can see in, and see that we are alone". Surely three women in a house - not counting an ill man in the upstairs bedroom - would not be considered "alone". This once again reinforced the idea that women, especially forgetful women like Stella, were helpless without the protection of a man.
Other elements that Lina White liked to include in her novels echoed that of the devices American mystery authoress Mary Roberts Rinehart used : lonely country houses, mysterious men on the prowl, night scenes and nurses.
This episode is dripping with MacGuffins and old dark house horrors and the exterior sets for the Bates Motel (
Psycho
) were appropriately
used as the Baker residence.
The Hitch himself directed a few episodes of The Alfred Hitchcock Hour but in this case all honors went to Joseph Newman ( This Island Earth ), whose taut direction kept the story at an edge-of-your-seat suspense level and claustrophobically confined to the house. But applause must also go to the great cinematographer Stanley Cortez ( The Magnificent Ambersons ). In several key sequences, he uses tilted shadows to create a feeling of approaching danger. In addition to these talents, Bernard Herrmann,
a Hitchcock favorite,
composed the subtle score for this episode and James Bridges, who penned the teleplay, won an Edgar Award the next year for this adaption.
"An Unlocked Window" aired on February 15, 1965. It was the 17th episode of the third season of the popular extended length, The Alfred Hitchcock Hour. This episode boasted a fantastic cast including
Dana Wynter, a delicate lady who was no stranger to suspense films. In 1963 she had just completed starring in John Huston's thriller,
The List of Adrian Messenger,
while John Kerr was enjoying a respite from his usual melodramatic roles.
Louise Lantham practically steals every scene she is in with her fear-begotten characterization of Maud, the boozy housekeeper, accented by her whinny lethargic drawl. It is a performance reminiscent of Agnes Moorehead's stellar portrayal of Velma in Robert Aldrich's
Hush Hush Sweet Charlotte
( 1963 ). Lantham had made her film debut just one year prior in Alfred Hitchcock's
Marnie
, as Mrs.Edgar, Marnie's callous
mother.
"An Unlocked Window" was remade on The Alfred Hitchcock Show revival series in 1985. It was condensed to a half-hour episode and this time starred Annette O'Toole and Bruce Davison. Both episodes are available for viewing on Youtube, but viewer beware.....if you are watching these on a dark and stormy night, be sure to check that your doors and windows are securely locked before sitting back to enjoy these frightful delights.
DO NOT PEEK!
If you are familiar with "The Unlocked Window" and know its ending than here is an interesting article on one of its principal players...otherwise, do not peek!