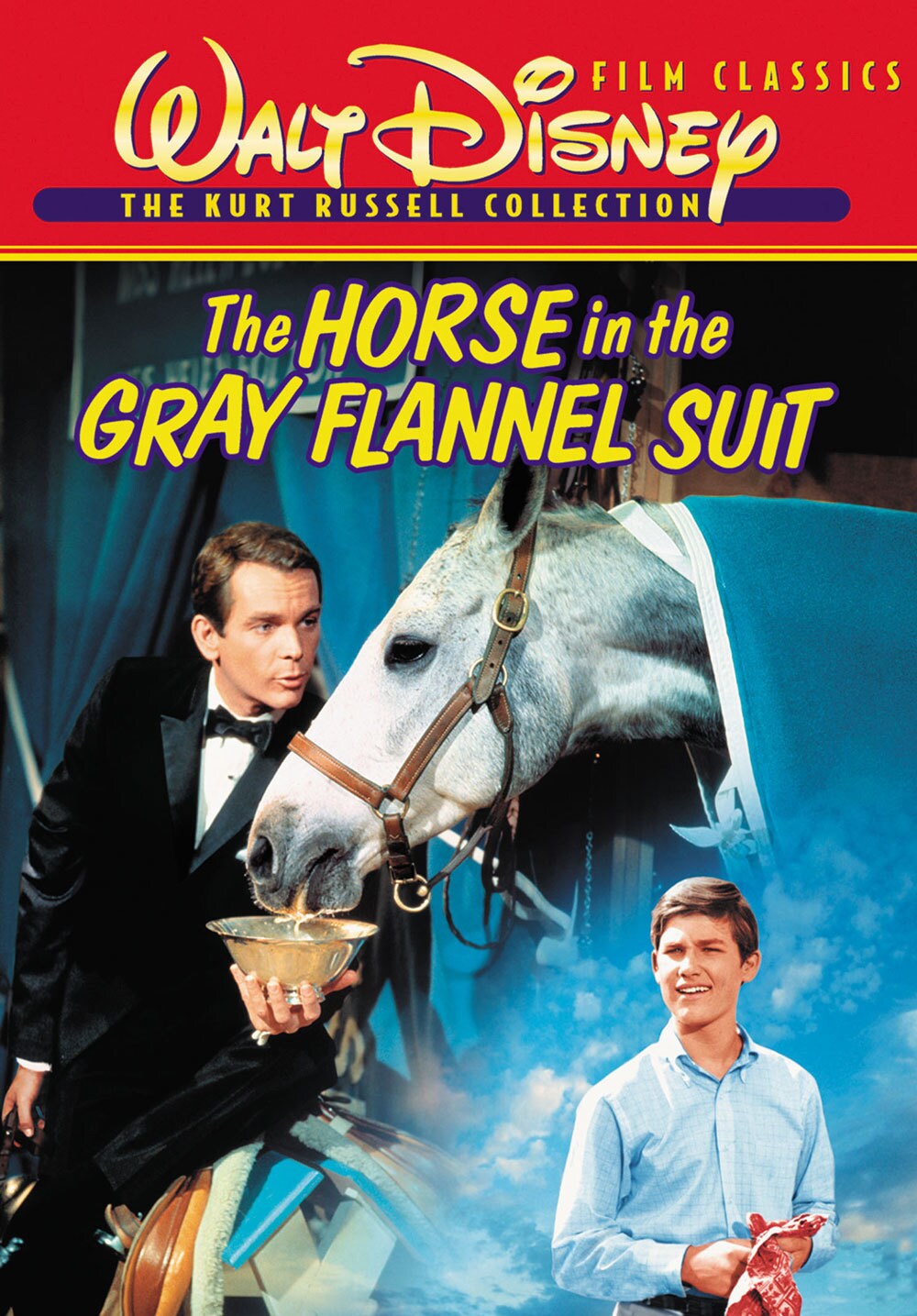 Last year on this day - the day of the Kentucky Derby - we
launched Silver Scenes with our very first post -
The Triple Crown Winner
.
It was a personal selection of our favorite horse-racing themed films. Twelve months, one hundred and twenty four posts and sixteen blogathons later we have arrived at our one year anniversary. Tally ho! It's amazing how quick a year can go by.
In order to celebrate this monumental event we decided to write another post about a horse - none other than The Horse in the Gray Flannel Suit.
After all, the Kentucky Derby is once again taking place this evening.
The Horse in the Gray Flannel Suit really has no bearing on horse racing but rather covers an event in the equestrian world that has seldom been depicted in the motion pictures - horse jumping.
Advertising executive Frederick Bolton ( Dean Jones ) finds he is up to his neck in bills and in stress. His daughter Helen ( Ellen Janov ) desperately wants a horse - which he cannot afford - and his boss wants him to dream up a winning advertising campaign for a prestigious pill company "Aspercel" by tomorrow - or else, lose his job.
After hours scheming up campaign angles, a bolt of inspiration hits him and he finds it may just be a solution that will please both his boss and his daughter: enter a horse named Aspercel in horse jumping competitions across America. What better way to instill in the minds of the social elite the tongue-tripping name of Aspercel and receive headline coverage nationwide?
The Horse in the Gray Flannel Suit
was based on the novel "The Year of the Horse" by Eric Hatch, who was an author and screenwriter best known for
My Man Godfrey
and
Topper
. The film was originally planned to be released as
The Year of the Horse
, but instead, the publicity department decided to pun the popular 1956 Gregory Peck film
The Man in the Gray Flannel Suit
, which also dealt with the world of advertising.
Dean Jones' comedic skill in the short-lived television series "Ensign Pulver"( 1963 ), had caught the eye of Walt Disney and when the series was canceled he was cast as the handsome cat-chasing FBI agent in
That Darn Cat
( 1965 ). Jones has come to be known for his family man roles of the 1970s, but in the 1960s he was usually cast as a bachelor or a childless husband. In this film, he portrays a widower, whom we imagine has not been on a date since his wife's passing.
Like most of his roles, he plays Fred with a lot of harried gestures and frequent bursts of nervous laughter.
Ellen Janov was performing at a club in Palm Springs singing when she was spotted by a Disney exec and screen-tested for the role of Helen Bolton. She was fifteen years old at the time of filming and this was the only picture she ever made. Later, she recorded a few songs released through Capitol Records before becoming a primal therapist in Los Angeles. She died tragically at the age of 22 in a house fire.
" For $2,000 I'd jump a few fences myself "
The lovely Diane Baker was making her first - and only - appearance in a Walt Disney production as Suzie "S.J" Clemens, Helen's riding instructor. Suzanne Pleshette could have easily played her role as well, but it is nice to see Baker in this part. The riding habit suits her.
Kurt Russell, who was soon to become one of Disney's biggest stars, had a supporting role as Helen's boyfriend Ronnie, while Morey Amsterdam provided comic relief as Fred's co-worker Charlie. Lloyd Bochner, Fred Clark, Alan Hewitt and Lurene Tuttle rounded out the cast.
The star of the film "Aspercel" was really Albarado, a dapple grey jumper who practically steals every scene he is in from the principal actors. In certain scenes, he was doubled by Sir Winston and Could Be, but don't ask us which scenes those were.
The beautiful Bolton estate and other location scenes were filmed on Disney's 900 acre Golden Oak ranch near Newhall, California.
The Horse in the Gray Flannel Suit
was the first film to be marketed with "Walt Disney Productions Presents" after Walt's death in 1966. It was
released on December 20, 1968, along with the short,
Winnie the Pooh and the Blustery Day,
but alas, the film was not the big success it was hoped to be. It brought in only $3.3 million dollars ( half of what
The Ugly Dachshund
fetched ).
"Aspercel, Aspercel...take one pill it'll make you well. If you're dead....your dead."
The Horse in the Gray Flannel Suit doesn't have the belly-laugh comedy of some of the better Disney films and, in spite of its marketing, isn't really a comedy at all. Aside from some amusing scenes of Dean Jones riding Aspercel bareback, it is more of a warm domestic drama. Like The Happiest Millionaire, it seems as though the Disney studios were experimenting with trying to capture an older audience. The film gently delves into a variety of different sub-surface topics such as gender equalities and single-parent child-raising all the while keeping the audience entertained and amused with its central theme - horses.
One of the more important dramatic aspects of the story plot, however, is the psychological trauma of children who support their family.
Unbeknownst to Fred, his eagerness to make his publicity plan work puts a lot of untold pressure on the shoulders of his daughter.
Helen feels that she is homely and that boys do not like her. Her equestrian skill is the only substance for her self-confidence, but she finds she doesn't enjoy riding as much when she discovers that it is her medals that will either keep or break her father's position. When Fred shamefully realizes this it dawns on him that he has been valuing his job more than his family and quickly makes amends to change that.
The Horse in the Gray Flannel Suit is a personal favorite of ours because of its "feel good" quality. Like most Disney films, it leaves you with a sense of satisfaction after watching it. The film is colorful, features talented performers, an entertaining plot and - most amazing of all -actually does focus on what you would expect to see in it based on its title: horse jumping. The twenty-five-minute finale will make any horse lovers heart thump, with actual
footage from the Washington D.C International Horse Show spliced in between sequences. Overall it's a tally-ho-ho show!