Fortunately, Hollywood costume designers have always received well-deserved recognition of their contribution to the art of making a motion picture, but alas, even in this note-worthy profession there are the few who have fallen into obscurity. Yes, even a giant star can be lost in a vast galaxy, and so is the case with Bill Thomas. He was one of the busiest and hardest working costume designers in Hollywood and yet today his name has become forgotten among such talents as Edith Head, Adrian, and Irene.
Ah, but even though his name was dwarfed by these giants, his work was not. How could it be? Bill Thomas dressed actors in over 300 films ( including just about every Walt Disney production ). His handiwork was evident in a wide array of films but I do indeed believe it is through his Disney work that he will be especially remembered.
Who does not fondly recall the striped shirtwaist worn by nanny Mary Poppins while doling out spoonfuls of sugar to her wee charges; or Miss Eglantine Price's oversized motoring habit she wore while zipping through town on her motorbike to fetch her latest Correspondence of Witchcraft package; or Susan and Sharon's matching blue and white Camp Inch uniforms, the envy of even a full-fledged Girl Scout? His skill in costuming contributed greatly to all of these classics. Although he did a marvelous job on all of the films he worked on, I will be focusing on his work for the Walt Disney Studios....just because they are so colorful.
First, a brief look at the history of this man: Bill Thomas was born on October 13, 1921 in Chicago, Illinois. After high school he pursued his love of art and design at the Chouinard Institute, where another famous Disney Imagineer, Herbert Ryman, also received his education. In Hollywood, Bill worked at Universal Studios getting his start in motion picture costume design in films and serials such as The Desert Hawk, Mystery Submarine and westerns like Wyoming Mail. It was not long after this that his work was beginning to be recognized and he found that more and more dress designing assignments were coming his way.
Color films were a medium that Bill was especially adept at making costumes for and during the early 1950s he exercised this skill and was busy working on such rousing adventure films as The Flame of Araby, Yankee Buccaneer, The World in His Arms, and The Pirate – where he designed Judy and Gene's comical garb for the famous 'Be a Clown' number.
Director Douglas Sirk found Bill's work very eye-catching and had him design gowns for Lana Turner, Jane Wyman and Dorothy Malone in many of his lush Technicolor tear-jerkers such as Magnificent Obsession, All That Heaven Allows, Written on the Wind, and Imitation of Life (1959 ). Bill provided the perfect look of simple elegance for these leading ladies.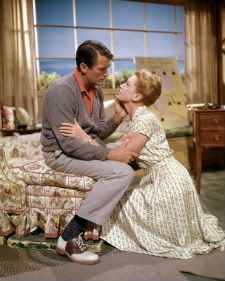 For the 1960 epic Spartacus, Bill Thomas again was called on to design strictly the leading lady's wardrobe ( Jean Simmons', that is ) and this Romanesque work garnered him an Academy Award, along with chief costume designer Valles. It was one of nine Academy nominations he was to be honored with during his career.

In 1961 he received his first of many, many assignments for Walt Disney Studios – The Parent Trap. Oh, and what a wonderful job he did creating these costumes!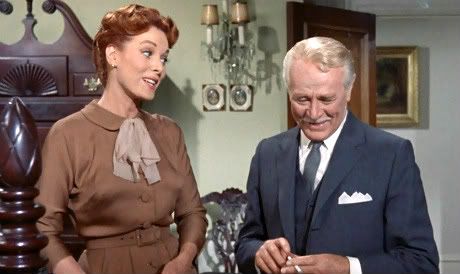 " You know Margaret, I've got to hand it to you, it certainly shows strength of character not to go with the new fashion trend in clothes "
Yes, Maggie's transformation from a "mature" middle-aged mother of two to a ravishing modern mom was due in no small part to that stand-out lime green ensemble he designed. And the girls were not neglected in the fashionable dress department either….Bill had previously worked on teen-themed films such as The Restless Years ( with Sandra Dee ) and Tammy and the Bachelor ( Debbie Reynolds ) and knew well-nigh how to dress young women in the fashion of the time.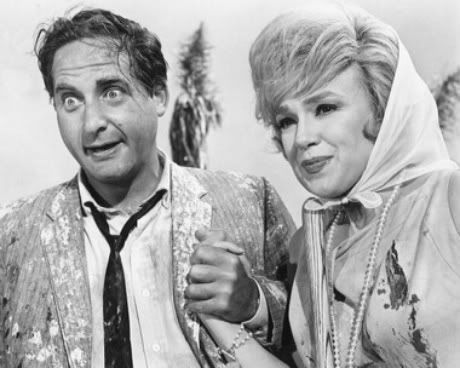 During his tenure at the Walt Disney Studios, Bill Thomas had time to do many freelance projects with other studios as well. One of these films was the mad cap comedy It's a Mad, Mad, Mad, Mad World ( 1963 ) and he had an enormous cast to design costumes for in that one. Ethel Merman and that flower printed dress and straw sunhat she wore as the "mother-in-law", will be forever associated together in my mind. Oh, but poor Mr. Thomas…the majority of his costumes were either ripped, splattered with paint, or layered in dust and dirt by the end of the film. ( No wonder you won't find any It's a Mad,Mad,Mad,World costumes in Debbie Reynold's museum ).
He also designed the wardrobe for Dean Martin and Yvette Mimieux in Toys in the Attic; Vivien Leigh and Simone Signoret in Ship of Fools; Bob Hope and Anita Ekberg in A Global Affair; and James Garner and Julie Andrews in The Americanization of Emily during this time.
Bill Thomas was a very imaginative designer and he created elaborate costumes not only for period settings, but for classic book characters ( Barnaby in Babes of Toyland with his black caped suit, tights and matching top hat, and Robin Crusoe's native straw-wear in Lt. Robin Crusoe USN ) and for monkeys. Lots of monkeys. There were monkeys in space ( Moon Pilot ), monkeys at balls ( My Man Godfrey ) and monkey grape pickers in France ( Monkeys Go Home! ).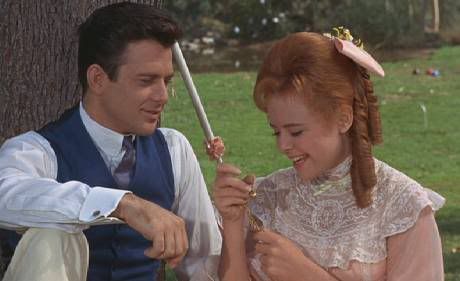 But it was lovely period summer dresses that Bill designed best, and Summer Magic ( 1963 ) had some of the most beautiful ones : Deborah Walley was the pink of perfection in her pink chiffon picnic dress which set off her red hair nicely;

Hayley Mills wore a more playful sailor themed croquet romper while she made faces at Debbie's flawless style and, during the finale, Hayley got the eyes of admiration turned upon herself when she appeared dressed in a light yellow and white dress, arm in arm with her dashing suitor ( who was handsomely fitted too ) at the Halloween Ball.
Of all of Bill Thomas's creations, Mary Poppins' attire is undoubtedly the most memorable. Why, Mary Poppins would not be the Mary Poppins we know without her long black coat, blue tailor-fitted dress, black hat ( with flower of course ) and talking parrot umbrella. Even today his original designs are respectfully duplicated in the Broadway production of Mary Poppins. Each and every costume he created for all the members of Mary Poppins can be indelibly linked to the character and helps to add to their personality.
The outfits he designed for the Jolly Holiday number were simply….jolly! Candy-like colors abounded and Mary Poppin's summer-in-the-park dress was the tip of the top, crème of the crop loveliest of dresses to be seen.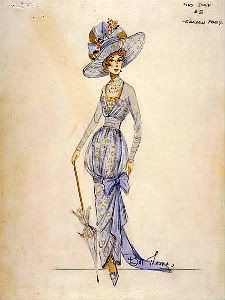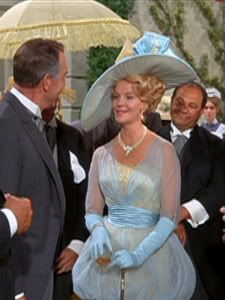 Another beautiful ensemble of costumes were created for the Biddle and Drexel families in The Happiest Millionaire ( 1967 ). Light, airy pastel toned fabrics were used throughout to enhance the cheerful story and help soften the image of the early 20th century.

The two matriarchs of the families not only had a verbal repartee during their children's engagement party but were engaging in a battle of fashion as well, with each of them bedecked in the most sumptuous of Bostonian wardrobe.
A brief change from the period setting came when Bill was called upon to design numerous costumes for gnomes ( and humans too ) in The Gnome Mobile ( 1967 ). During the finale, head gnome Grandpa Knobby looked on as his grandson was being chased by a myriad of beautiful gnome-gals all wearing fairy-like costumes - in the short mini-skirt fashion of the times – eager to catch their would-be husband.
Bill Thomas received his second Academy Award for Best Costume Design for his garmenting of Eglantine Price, the witch who helped end the war, in Bedknobs and Broomsticks. Each costume was designed simply and in the keeping with the war-time restrictions of the more expensive fabrics, such as nylon and silk.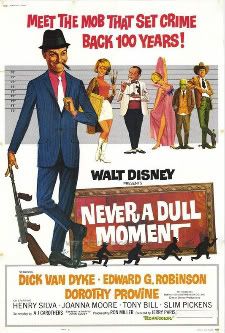 During the late 60s he strictly designed costumes for Walt Disney films and some of these movies included Blackbeard's Ghost, The Love Bug, One and Only Genuine Original Family Band, Never a Dull Moment, and The Horse in the Grey Flannel Suit, Island at the Top of the World and Pete's Dragon. His last motion picture for the Studio was The Adventures of Pollyanna….a sequel to one of the few Disney movies he did not design the original costumes to.
After doing a few television movies, Bill retired in 1982. During his long career, he had collected many of the costumes he designed, as well as many famous pieces and had become quite an authority on movie memorabilia. He was often called on as a consultant at studio auctions. Bill Thomas passed away on May 30th, 2000 in Los Angeles at the age of 79.