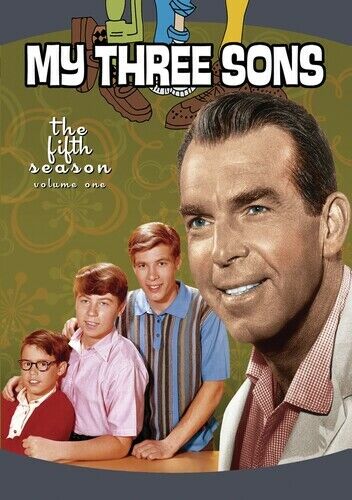 There were a great number of episodes from classic television shows of the 1950s and 1960s that featured characters visiting Paris and Rome, but there were very few that had characters going to Ireland. Since today be St. Patrick's Day, we'll be sharing with ye one of the best of these rare episodes - it be the 1964 classic "Dublin's Fair City" with none other than Steve Douglas and his brood of winsome lads visiting the Emerald Isle.
This 2-part episode begins with William "Bub" O'Casey ( William Frawley ) receiving a letter from his cousin in Ireland announcing that he won the Irish sweepstakes. Bub had been sending his cousin money from time to time to buy sweepstakes tickets and they finally won the jackpot. With his share of the winnings, Bub decides to treat his family to a trip to Ireland to visit with his Irish side of the family.
In Ireland, Bub reunites with his cousin ( Robert Emhardt ) and his aunt ( Jeanette Nolan ) and Steve Douglas finds himself being pursued by a young woman ( Mariette Hartley ) anxious to wed and come to America. The boys have little to do in this episode but strangely enough, their absence is not noticed.
"Dublin's Fair City" is a fun episode to watch, primarily due to the presence of Jeanette Nolan as 103-year old Aunt Kate. She's a feisty biddy, yet lovable. Nolan steals every scene she is in and clearly enjoys spewing out nonsensical Irish sayings like "A man who mumbles often stumbles." She has a strong hold on her son Mickey and treats him like a little boy, even though he be in his 50s. One afternoon, when she catches him leaving his wood shavings on the ground outside after a bit of whittling, she sends him to his room without supper. Bub remarks that "that's telling him" and then she promptly sends Bub to his room, too! Mickey is portrayed by Robert Emhardt, who is best remembered for playing the visiting businessman in The Andy Griffith Show episode "Man in a Hurry".
There is also a fun bit of not-so-romantic play between Mary Kathleen Connelly ( Mariette Hartley ) and Steve Douglas ( Fred MacMurray ). Mary takes a shine to Steve when she learns that he is a single man from America but her boyfriend Tom Grogan ( Sean McClory ) doesn't take to this lightly and, with his slingshot, aims acorns at Steve's head anytime he sees him with his girl.
Naturally, the countryside of California becomes "Ireland" for the episode but it is really set quite well. With Irish music playing in the background, the episode does indeed have an Irish air to it and makes you feel like you went traveling with the Douglas' overseas.
If this episode is new to you, then it is well worth checking out. Watching it may become a new St. Patrick's Day tradition in our house.