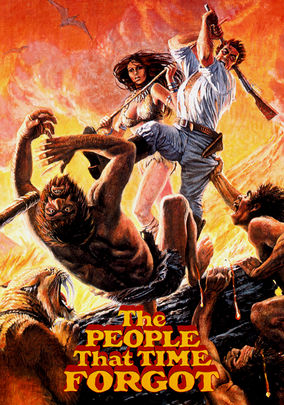 The 7th Continent - a lost world shut off by a wall of ice, roamed by beasts unknown to Science, ruled by men lost to History, doomed to vanish in a chaos of leaping flames!
This was the tagline to The People that Time Forgot, the sequel to The Land that Time Forgot ( 1975 ). Quite a fetching tagline....and the poster of the film is even more enticing! It shows a man ( supposedly Patrick Wayne ) walloping a hairy caveman with the butt of his rifle while a pterodactyl flies overhead. This scene was actually in the movie but it did not seem quite as exciting as the poster makes it out to be.
The People that Time Forgot does have its share of excitement though. Within its 90-minute runtime, our heroes have to face a continual string of encounters with prehistoric cavemen, wicked warlords, dinosaurs, and erupting volcanoes.
The story, based on the 1918 novel by Edgar Rice Burroughs, begins where The Land that Time Forgot left off. If our readers remember, Bowen Tyler ( Doug McClure ) and Lisa Clayton ( Susan Penhaligon ) were left stranded on the island of Caprona, a land untouched by evolution. Tyler writes an account of his whereabouts, places it in a bottle, and throws it out to sea.
This is where
The People That Time Forgot
begins. A sailor discovered this bottle off of the coast of England and Tyler's friend Major Ben McBride organizes a search party to rescue them. Members of this expedition include a woman photographer, Lady Charlotte Cunningham ( Sarah Douglas ), a paleontologist ( Thorley Walters ), and a mechanic ( Shane Rimmer ).
They arrive on Caprona with an amphibious aircraft but a dogfight with a pterodactyl wrecks the propellor and three of the members decide to embark on their search by foot. En route they meet Ajor, a cavewoman, played by the tremendously buxom Dana Gillispie. She knew Tyler and tells them that he was captured by the Nargus, a samurai-like band of warriors, who are keeping him a prisoner on the Mountain of Skulls.
Once they find him they have to battle the Nargus' not-so-jolly green giant before scurrying back to the airplane before the island erupts in flames ( volcanoes usually sit undisturbed for hundreds of years but are always ready to erupt when visitors come ).
The plot is simple enough and it allowed screenwriter Patrick Tilly to add any number of creative hazards for the party to encounter during their rescue mission. These included a few dinosaurs, a tunnel of serpent heads ( who looked surprisingly similar to the Arthur O'Connell serpent from The 7 Faces of Dr. Lao ), and, of course, the prerequisite escape-from-a-sacrificial-ceremony.
Director Kevin Connor made a series of adventure films based on Edgar Rice Burroughs' novels in the 1970s beginning with The Land that Time Forgot. All of these films are - unfortunately - quite forgettable, but nevertheless, they make great Saturday-afternoon viewing. The stop-motion dinosaurs are not as impressive as Ray Harryhausen's creatures but the special effects are otherwise done very well. The scenes with the airplane flying through the mountains and the ship cutting through the icy waters are especially good.
If you enjoy popcorn movies like this, then check out Walt Disney's Island at the Top of the World ( 1974 ) as well...these two films would make for a great double-feature!