The Foreign Western Blogathon is taking place this weekend over at Moon in Gemini so we are joining in on the celebration of non-Hollywood westerns with this peek at one of Germany's most popular Western film series - the Winnetou Saga.
The Winnetou films were based on Karl May's popular western novels dating from the late 1800s. Karl May penned nearly thirty tales of the great Apache warrior Winnetou and his blood-brother Old Shatterhand between 1875 and 1910 and millions of copies were sold throughout Europe.
Old Firehand ( 1875 ) was the first book in the series and it tells the story of Winnetou, an Apache Indian chief. His father and sister are slain by the white bandit Santer so Winnetou seeks revenge and encounters Old Shatterhand, a scout, during his adventure tracking down this villain. At first, they perceive each other as enemies, but they soon become friends and, eventually, blood brothers.
As popular as the books were, it was not until 1962 that Winnetou was first brought to the screen in a German-French-Yugoslavian co-production from Rialto Film studios titled Treasure of Silver Lake ( Der Schatz im Silbersee ). French actor Pierre Brice took on the role of the great Apache and American actor Lex Barker portrayed Old Shatterhand with other parts going to Götz George, Herbert Lom, and Karin Dor. The production was directed by Harald Reinl, a popular Heimatfilm director, and shot in color in the beautiful Plitvice Lakes region of Yugoslavia ( standing in the for the American West ).
Treasure of Silver Lake
had a modest budget but became a phenomenal success on its release, ranking as the highest-grossing film in Germany in 1962 and raking in sales throughout France, Italy, Spain, Russia, and Eastern Europe. Its unexpected success launched the production crew into making a sequel within the next few months and in 1963,
Winnetou the Warrior
aka
Apache Gold
, was released. This film was even more popular than
Treasure of Silver Lake
and the cast and crew once again plunged into a follow-up film.
A total of eleven Winnetou films were released between 1962 and 1968 with each subsequent film boasting a larger budget and cast ( Stewart Granger took over as Old Shatterhand when Lex Barker left the series ). The films were re-released for years to come and, in 1980, a television mini-series was made featuring Winnetou - Mein Freund Winnetou.
It was the success of the Winnetou pictures that even inspired Italian director Sergio Leone to create the first of his own series of "spaghetti westerns" -
A Fistful of Dollars
- in 1964.
Instead of reviewing each film in the series, we have put together some photos from each of the films to give you a hint at what the Winnetou Saga has to offer.
The Winnetou Films
Treasure of Silver Lake aka Der Schatz im Silbersee ( 1962 )

Apache Gold aka Winnetou 1 Teil ( 1963 )

Old Shatterhand ( 1964 )

Last of the Renegades aka Winnetou 2 Teil ( 1964 )

Frontier Hellcat aka Unter Geiern ( 1964 )

Rampage at Apache Wells aka Der Olprinz ( 1965 )

The Desperado Trail aka Winnetou 3 Teil ( 1965 )

Flaming Frontier aka Old Surehand 1 Teil ( 1965 )

Winnetou and the Crossbreed aka Winnetou und das Halbblut Apanatschi ( 1966 )

Winnetou and Old Firehand aka Winnetou und sein Freund Old Firehand ( 1966 )

The Valley of Death aka Winnetou und Shatterhand im Tal der Toten ( 1968 )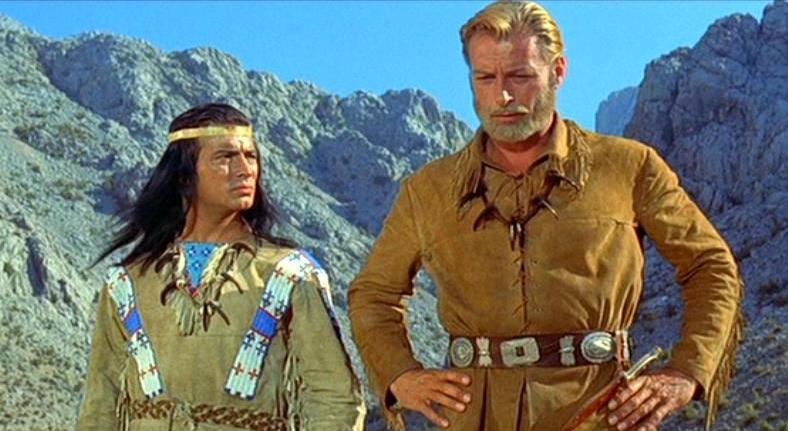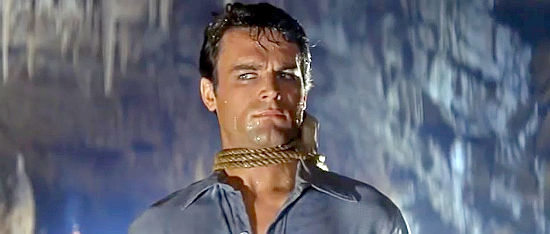 Click here to watch some of the original German trailers, and you must definitely check out Martin Bottcher's fantastic Winnetou theme ( this particular link is for the Old Shatterhand film ).