This edition of our Behind the Screen - The Hidden Masters of the Golden Age of Filmmaking series was going to be a feature on one of my favorite art directors - Carroll Clark. But it is very difficult to praise the work of an art director without giving due praise to the set decorator who, through the use of furnishings, props and small personal objects make the sets "come alive". And so, this post will pay tribute to Carroll Clark and Emile Kuri…the art director and set decorator or just about every live-action Walt Disney film made between 1955-1972. Wow, is that a lot of movies! Due to the limited amount of space on this blog... I'll just be highlighting these Disney films and will cover more detail about Clark's work in the 1940s in a future post.
Carroll Clark was born in Mountain View, California on February 6, 1894. He got his formal training in architecture but decided to pursue commercial design instead, which eventually led to his getting a position as art director for Pathe studios during the mid-1920s.

In 1930 Howard Hughes selected him to be art director on his high-flying war adventure Hell's Angels and Clark began to get more assignments his way. However, it was when he joined RKO studios two years later that he accomplished his real triumphs of design ingenuity.
Van Nest Polglase, one of the most influential production designers of the American cinema, was working on sets for Merium C. Cooper's epic thriller King Kong ( 1933 ) and hired Carroll Clark as an assistant on the project. The two worked well together and soon after were sharing credit ( and Academy Award nods ) for creating the imaginative and elegant art deco sets for the Fred Astaire/Ginger Rogers films Flying Down to Rio, Roberta, Top Hat, and later Carefree.

Carroll Clark was kept busy throughout the 1930s and early 1940s, on films such as The Little Minister, Enchanted April, Hitler's Children, Murder my Sweet, and The Enchanted Cottage. Clark made the "enchanted" cottage simple and cozy and inviting through his open-floor plan, and use of wide beams, diamond-paned windows, and stonework.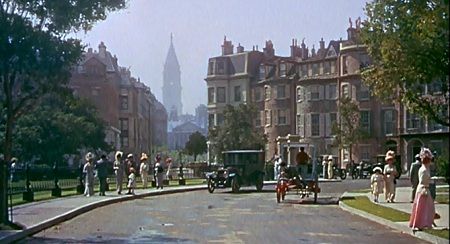 Now is a good time to introduce Emile Kuri, for around this year he was beginning to make his mark in Hollywood too. Emile Kuri was born in Mexico on June 14, 1907 to Lebanese parents. When Emile was only 12 years old, his father died, and needing to support his mother and siblings he found work at a furniture store in Hollywood. One day during lunch hour, while all the salespeople were away, a wealthy woman came into the store looking for articles to decorate a room in her house and Emile gladly made suggestions…even though his job was just to dust the furniture. She liked his taste and suggestions so much she asked if he could re-decorate her and her husband's house. Her husband was Hal Roach.

Emile impressed Mr. Roach with his innate flair for decorating and soon found himself working as the set decorator on Roach's comedy classic Topper ( 1938 ). His career as a set decorator had begun – and what an impression on film design he would make!

Throughout his career with Warner Brothers and Paramount studios during the 1940s and 50s he worked with such directors as William Wyler ( The Heiress ), Frank Capra ( It's a Wonderful Life's Bedford Falls was Emile's creation ) George Stevens ( A Place in the Sun, Shane ) and Alfred Hitchcock ( Spellbound, Rope, Trouble with Harry ).
Carroll Clark was also working with Hitchcock during the 1940s ( Suspicion, Notorious ) and was busy creating beautiful sets for such classics as I Remember Mama ( 1948 ), The Bachelor and the Bobby-Soxer ( 1947 ), and Mr. Blandings Buildings His Dream House ( 1948 ).

In 1953, Walt Disney hired Emile Kuri to give Walt Disney Studios' office complex a face-lift. Plans for 20,000 Leagues Under the Sea were under way and once again Emile was in the right place at the right time. He became set decorator for the film, and his creative use of ironwork, velour, and ship parts earned him his second Academy Award and helped inspire a new Jules Verne Victorian fantasy style – Steampunk.
Carroll Clark arrived at Disney Studios not long after for his first assignment, Darby O'Gill and the Little People ( 1959 ) and thereafter the talented designing duo were working side by side for the next 15 years.

The sets and décor for Toby Tyler ( 1959 ), The Absent Minded Professor ( 1959 ), Pollyanna ( 1960 ), Babes in Toyland ( 1960 ), The Parent Trap ( 1961 ), Summer Magic ( 1963 ), Mary Poppins ( 1964 ), and That Darn Cat ( 1965 )were all their handiwork.
While an art director has the task of setting the scene, it is in the set decorator's hands to furnish that setting with objects in keeping with the art director's vision. "The most difficult thing," Kuri once told an interviewer, "is to make a set not look like a set, but like a home, as if the people just walked out."
Emile Kuri knew how to convey character through the use of objects in a set. This is especially evident in A Place in the Sun, It's A Wonderful Life, and in Pollyanna and Mary Poppins. The Banks household at 17 Cherry Tree Lane is very old "banker"ish and yet quite modern... and quite feminine... just overall a happy place to live in.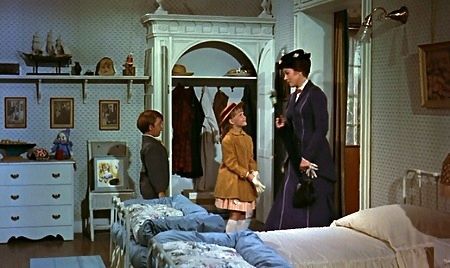 But let's not forget that the look of Cherry Tree Lane itself came from the mind of the art director, Carroll Clark, too.
In The Happiest Millionaire and Pollyanna, Emile Kuri made great use of light toned furniture and abundant greenery to add color and cheerfulness to the Victorian residences of two wealthy upper-class families.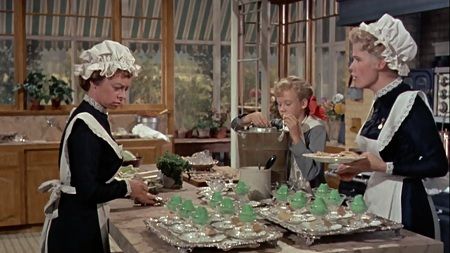 During the mid 1960s the team worked on such classic live-action films as The Ugly Dachshund, The Monkey's Uncle, Adventures of Bullwhip Griffin, Blackbeard's Ghost, The Horse in the Grey Flannel Suit and The Love Bug.

The Love Bug was Carroll Clark's final feature. He passed away on May 17th, 1968, after designing the sets to over 172 feature films in his career.
Emile Kuri continued to work at Walt Disney Studios up until his retirement in 1973. In addition to using his skill of set decorating for film, Emile Kuri worked on the sets of Disneyland as well, designing the interior to the Columbia sailing ship and the New Orleans Plaza Inn.
Emile Kuri earned 8 Academy Awards nominations in his lifetime, but more importantly than the awards and accolades he received was the wonderful interiors that he created for all those Walt Disney films that have become so memorable and identifiable with the film itself and the characters. Of all the films that Emile Kuri and Carroll Clark worked on, I love The Parent Trap set the best...and so, I'll close here with a screenshot from that magnificent modern kitchen.