"A young woman lies dangerously ill in a hospital bed. Concealed in the shadows outside her window is a ruthless killer, ready to murder again to silence this woman, the only eyewitness to his crime..."
So reads the press release to
Eyewitness,
a grand little thriller from Rank Studios. It was a Muriel Box film produced by her husband Sidney Box ( brother of the famous British producer Betty Box ). Janet Green penned the script, which was brisk and clever, albeit a bit far-fetched.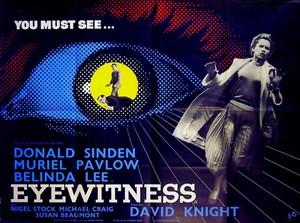 Lucy Church accidentally witnesses a robbery at a movie theatre one evening and, while she is attempting to run away from one of the robbers, gets hit by a bus. Hard luck! She is taken to a hospital, suffering from a minor concussion. There, instead of getting much-needed rest, her life is in danger by the very same robbers. One of them wants to smother her before she comes to and can describe them to the police.
Most of the action takes place within the hospital or on the grounds outside it. This facility, with its modern architecture, is predominantly glass - which at night time, with a killer on the prowl, can make it seem doubly dangerous.
One of the patients at the hospital is "Granny", an old lady with two bulging eyes that see everything that goes on around her. Ada Reeve portrays this character and steals every scene she is in. "Nurse! Nurse! There's a man! I saw a man trying to come in!" she hollers. "She's always seeing men. Wishful thinking," the staff respond.
Muriel Pavlow ( Murder, She Said ) was not a well-known actress but certainly a capable one, as she proves in her portrayal of Lucy... brief as it is. Belinda Lee, who plays the nurse at the hospital, was a lovely British bombshell whose life and career ended much too early. Michael Craig has a minor role as Lucy's husband, but the real stars of the film are Donald Sinden and Nigel Stock, who portray the two amateur crooks. Dangerous as they are, they are quite likable, which adds to the film's appeal.
The film rarely appears on television but is available on DVD and through streaming on Amazon Prime.